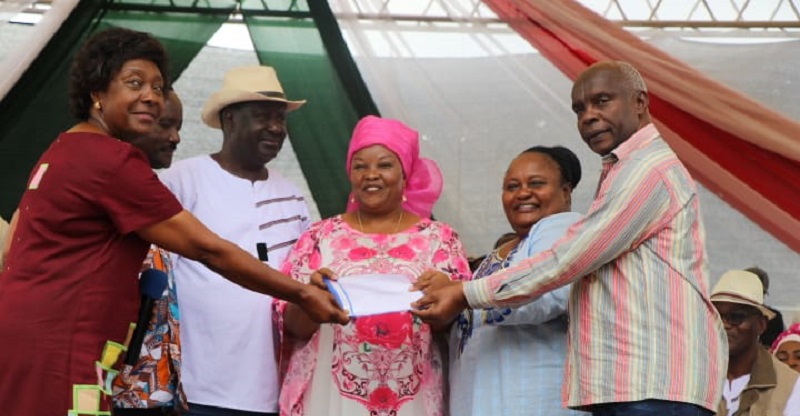 MEMORANDUM TO THE BUILDING BRIDGES INITIATIVE (BBI)
PRESENTED TO:
THE BBI FORUM IN KITUI
BY:
CITIZENS / LEADERS OF THE THREE SOUTH EASTERN COUNTIES OF KITUI MAKUENI AND MACHAKOS
1ST FEBRUARY 2020
Recognizing the opportunity under the umbrella of BBI, the people of the South Eastern Region of Kenya (Kitui, Machakos and Makueni counties), have held BBI consultation forums in January 2020.
Having critically analyzed the priority economic, social and political development needs of the people of the three south eastern counties we declare our unequivocal support for BBI, and propose the following recommendations for inclusion in the final report:
Our Recommendations
We recommend the following
1. On Shared Prosperity
1.1 Crop development master plan that promotes value addition, contracted farmer schemes, horticulture including fruit processing and secures farmers during buffer harvest. The government should review the National Strategic Food Reserve to include crops from our Region, especially Ndengu.
1.2 The enormous mineral wealth (iron ore, lime, coal, gem-stones and other minerals) found in the region be sustainably exploited, and value addition mechanisms established within the region. For example, limestone that is found in the region should be processed within the region.
1.3 Konza techno-city be fully operationalized in order to create jobs and an environment for digital innovation for many unemployed people within the region and beyond. Similarly, the Kenya Advanced Institute of Science and Technology, the digital media city and the national data centre located in Konza be fast tracked.
1.4 The Region be earmarked for industrialization due to availability of land, conducive weather for solar energy production and proximity to the capital city, with the SGR and Nairobi –Mombasa highway passing through it. The national government to work with the counties in providing the necessary infrastructure for investment and creating a conducive environment for cottage industries and jua kali sector. Industrial parks and special economic zones should be establishment within the Region.
1. 5 Increase domestic, livestock and irrigation water coverage currently below 40% to spur socio-economic transformation and industrialization. The stalled projects especially Grand Falls dam, Thwake dam and Wikithuki Irrigation Scheme, Wote Leather factory and Makueni government residential houses should be completed without further delay and many other such similar flagship programs initiated by the National Government.
1.6 The three counties having prioritized their Spatial Plans and ready to work with the business community in key development areas. To achieve this, the national government should facilitate county governments to exploit the public private partnership mechanism to spur speedy economic growth to enhance job and wealth creation especially among the youth.
1.7 The Kenya Investment Authority should work closely with the counties to identify both domestic and international investment opportunities and thereby grow the private sector within counties.
1.8 Both the national and county government to facilitate private sector at the county level organize itself through the formation of an association to give them a voice on matters of private sector development. This association should work with other similar players.
1.9 Electricity connectivity be increased to cover our entire Region bearing in mind that over 60% of the Hydro-power production is from Lower Eastern Region.
1.10 While we support strengthening of the regional economic blocs, the Constitution and the PFM Act should be reviewed to fully and legally operationalize them.
1.11 Our people living adjacent to the National Park should be protected from human-wildlife conflict. Revenue sharing from such parks should legally enforced.
1.12 Programmed infrastructural development (roads, tarmacking, sewer lines) through a clear national resource allocation formula that guarantees equity and fairness
2. On Health:
2.1 There be a clear system and framework of standards to categorize health institutions which give counties guidance in upgrading existing facilities. This will include every county establishing fully fledged level 5 hospitals.
2.2 The KEMSA Act amendments which were recently passed by the National Assembly compelling counties to exclusively procure their pharmaceutical and non-pharmaceuticals from KEMSA, works against the letter and spirit of devolution and must be revoked. Counties be allowed to procure the above competitively from qualified suppliers.
2.3 Expand Universal health care to include home-based care to make it possible for the elderly and the critically ill to access health care, and this should be covered by insurance.
2.4 The counties be supported to set up specialized units especially cancer screening and treatment across the country in order to make specialized treatment accessible to all citizens.
3. On Land
3.1 A Constitutional Commission on boundaries be established with a mandate to settle boundary questions within a maximum of five years.
3.2 Once any lease expires, the County Government must determine the renewal or reallocation of such land.
3.3 All public land must be repossessed within a maximum of five years.
3.4 Within a maximum of five years all land should have been surveyed and titles issued to land owners.
4. On Political Front
4.1 We support powerful Prime Minister and expansion of the Executive to include two Deputy Prime Ministers and engender the top seats where opposite gender is either head or deputy.
4.2 Make Senate the Upper house to strengthen devolution.
4.3 Cabinet Ministers to be appointed from both the elected and non-elected citizen at both the National and County Government levels.
4.4 Counties that are big to be divided to enhance service delivery. We propose carving out Mwingi County from Kitui County.
5. On Enhancing Devolution:
5.1 Allocation to counties be increased to 35% – 50% of the current annual budget.
5.2 Facilitate establishment of county courts to enhance revenue collection and compliance to County laws.
5.3 PFM Act to be reviewed to allow County governments to directly negotiate and receive development support from development partners and well wishers.
5.4 SAGAS based at the National Government level but implementing other programs and projects at the devolved level, including National Irrigation Board, National Cereals and Produce Board, Regional Development Authorities, Kenya Urban Roads Authority, Kenya National Roads Authority etc., be dissolved and their responsibilities and resources devolved.
6. On Inclusivity
6.1 The National Youth Service should have chapters in the Counties to serve youth who opt to go for technical training and skills development.
6.2 Establishment of a Youth Centre in every sub-county.
6.3 Establishment of a special unit, to be known as "The Peace Corps of Kenya" (Similar to VSO of Britain or Peace Corps of US), primarily focusing on graduate youth for skills acquisition (and especially within the Country, the African Continent and internationally). Such youths will be deployed for a maximum of one year, with their monthly stipend and expenses being paid from the exchequer.
6.4 One National Lottery should be established to among other things support:
6.5 A Challenge fund for youth innovation;
Talent and sports amongst the youth;
Rehabilitation of youth affected by substance alcohol abuse.
6.5 There be an elective position for Youth representative at both national and devolved level and ensure inclusion in every 3 people employed 1 should be youth.
6.6 Rights of persons living with disabilities especially in relation to construction industry, public transport, and social amenities among others be ring enhanced.
6.7 The state should fast track the self-regulation rules being developed by the religious sector so as to facilitate due registration.
6.8 The Government should uniformly roll out Alternative dispute resolution mechanisms that incorporates the councils of elders and religious institutions
7 On Environment:
7.1 The National and County Governments should come up with Policies, Strategies, activities and Incentives which promote the culture of a green economy;
7.2 The one square kilometer solar firm concept and other innovative clean energy initiatives at the devolved level be initiated, supported and profiled and complete with incentives in order to spur industrialization, cottage industries for youth and women employment.
7.3 Pollution of our environmental and our rivers (especially Athi River) has become a major source of cancer and other serious ailments. Very stiff penalties be introduced against polluters with the fines directly channeled towards remedy of the effects of the pollution in the affected areas.
Conclusion
The people of the three Counties fully support the letter and spirit of BBI and will whole heartedly vote for its adoption once a referendum on the same is brought forth.