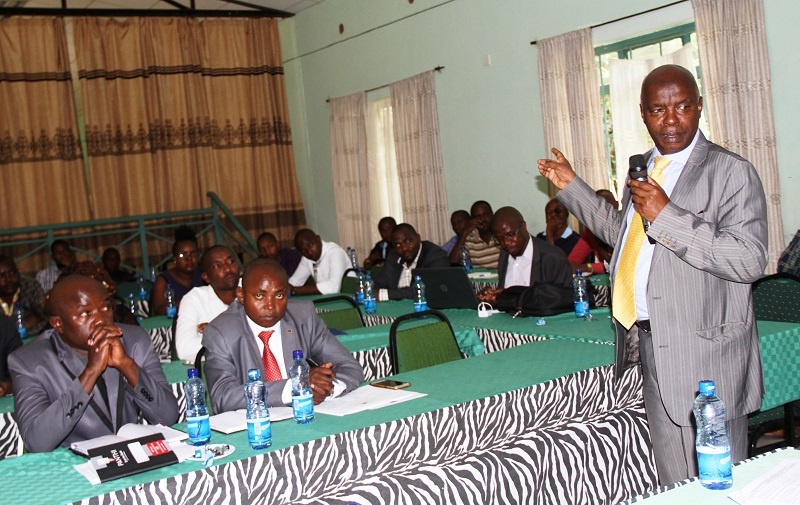 Makueni Governor Prof Kivutha Kibwana has told contractors working on county projects that his government will not tolerate any form of corruption and shoddy jobs.
He said the county will deal ruthlessly with staff found engaging in malpractices and urged businessmen awarded contracts to report any extortion attempts by county staff directly to his office.
The governor was speaking at Acacia Hotel in Wote during a meeting with major contractors awarded tenders by the department of roads, transport and infrastructure.
"We will not tolerate incidences of corruption and blackmail. I urge you to report cases of corruption to my office directly. In the past we have been ruthless with corrupt people and even now if we get them we will eject them from the system,"Prof Kibwana said.
He said that they should also report cases of intentional missing files adding that the county government will facilitate contractors to do their jobs and pick their money without any blackmail as long as they have done a good job.
The governor however indicated that the county government has had challenges dealing with some contractors in the past adding that creating a forum where the parties could meet and engage would help address emerging issues.
Said Prof Kibwana:"We have had challenges working with some contractors. It is important to create a platform where we can talk together so that we can understand each other."
County Secretary Paul Wasanga urged the contractors to employ locals in wards where the contracts are being undertaken as part of the government's initiative to ensure part of the money goes back to the people.
"When you go to the ground please give some of the jobs to the locals. That way we will get part of the money back to the people.When you do that they will even protect your equipment, "the CS said.
Roads Executive Committee Member Eng. Sebastian Kyoni who was present warned contractors against sub-letting contracts awarded to them without seeking clearance from the county government.
"When we request full compliance with PMC we urge you to cooperate with us and please don't compromise the supervision. Where you are required to undertake some tests please comply," he said.
Finance ECM Mary Kimanzi said the Makueni government has had no problem paying contractors explaining that where paperwork has been properly done payments have been processed in good time.
She however said that drip dropping cash flow and a cumbersome technology has made the process more bureaucratic but added that everything has always been done to ensure payments are processed.
"Because we always work with budget we don't have a problem paying on time. It is the process that sometimes takes a bit longer," Ms Kimanzi said