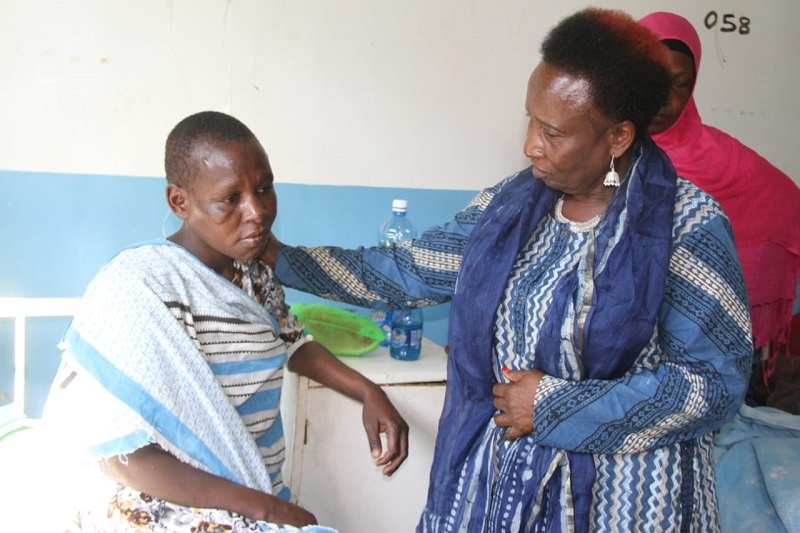 Makueni Deputy Governor Adelina Mwau yesterday visited a 25-year-old woman whose tongue was nearly cut by unknown people at Makindu level 4 hospital.
Grace Mwikali narrated her ordeal to the DG, noting that she went into a comma after the attack only to wake up several hours later outside Tumaini bar with her tongue daggling outside her mouth.
She said  that she had walked into the Tumaini pub in Makindu for a drink when the incident happened.
Ms Mwikali told the DG that she was attacked after relocating to an adjacent bar where she had been joined by two other friends.
"What followed after is still a misery to me because I cannot  remember anything but I can recall holding up my tongue from falling with blood oozing from my mouth at wee hours," She said.
She explained to Mwau that friends who have visited her at the hospital have indicated that some suspects have been apprehended.
Ms Mwikali, the mother of two is said to have been picked by police officers on patrol and rushed to Makindu level 4 hospital where she has been receiving medication.
Mwau condemned the attack describing it as part of a sustained abuse against women and called on the police to apprehend all the attackers saying they had no right to abuse her.
"If they are found guilty let them be prosecuted and serve their punishment," the DG said.
"As leaders we must initiate campaigns against alcoholism and create awareness, if we want Makueni to be a poverty free county," she noted.
Mwau said that alcohol for women can be dangerous adding that they become more vulnerable for rape and attacks.
Dr. Khalid Kibwezi West sub-county medical officer of health said Ms Mwikali was brought to the hospital on May 25 by the police who picked her by the roadside.
"She wasn't coherent on the first days but after her tongue stitched that is when she regained consciousness,"Dr.Khalid said.