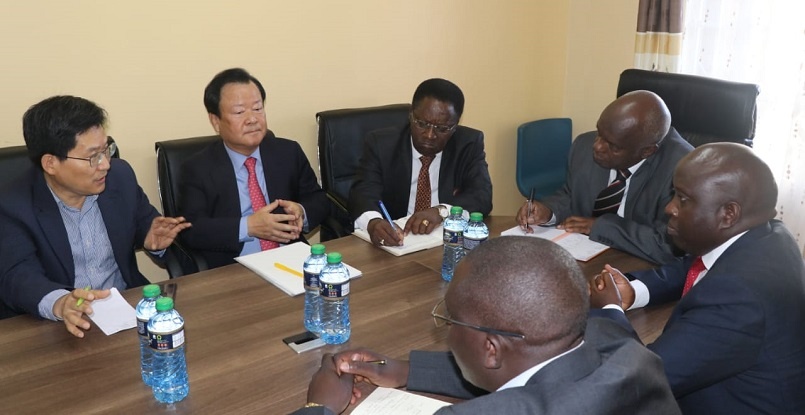 Makueni county, and especially the youth, is set to reap big from aproposed Konza Digital Media City (DMC) to be established at the Konza Technopolis.
The media city will be modelled after the Sangam Digital Media City in Seoul and other similar cities in Korea.
According to Jaehoon Lee, a lead pre-feasibility research consultant of the proposed project and lecturer at Hankuk University of Foreign Studies, Korea, the Digital Media City Project will mainly incorporate gaming, animation, filming, photography and entertainment centres as one of the sectors under the Knowledge Economy and Innovation pillar of Konza Technopolis Project.
Lee is leading a team of Korean researchers and ICT experts in a six month feasibility study of the proposed project and subsequently development of a Masterplan and Implementation of the Digital Media City.
On Wednesday, the Korean delegation held a consultative forum at Makueni's Nairobi Liaison office with governor Kivutha Kibwana and KotDA Chief Executive Officer John Tanui to agree on how to partner through information and logistics sharing during the feasibility and implementation of the project.
Tanui said the Konza Digital Media City (K-DMC) is proposed to provide an excellent digital media and entertainment ecosystem for research, training, propagation of new technologies, innovation and production of content with the African themes and perspectives for the global markets. 
He said the proposed project will leverage on a robust smart city infrastructure to attract leading global investors in the sector, thereby creating employment and boosting the national economy.
K-DMC project objectives
When complete, the project is expected to create over 50,000 direct jobs to the youth, with Makueni taking up a substantial chunk of these offers.
The project is proposed to host among other segments of the industry:
World class film and music production studios; Production studios for Photography, Advertisements, Cinema and TV Industry; Animation and Computer gaming industries; A film/multi-media campus; Theme Parks
; Specialized photography and filming facilities; Modern sound production studios and film labs
; Sound design studios and color correction facilities.
Governor Kibwana said his administration will work closely with the implementers of this project for the benefit of the Makueni youth. 
Kibwana also pledged to lobby his colleague governors Charity Ngilu, Alfred Mutua and Joseph Ole Lenku to take key roles so the region can benefit from this project under the South Eastern Kenya Economic Bloc (SEKEB) framework.
Eng. Tanui has said the  Media City project has the potential to go into the pipeline for projects with funding consideration by Korea Exim Bank