Kibwana commissions distribution of 50,000 title deeds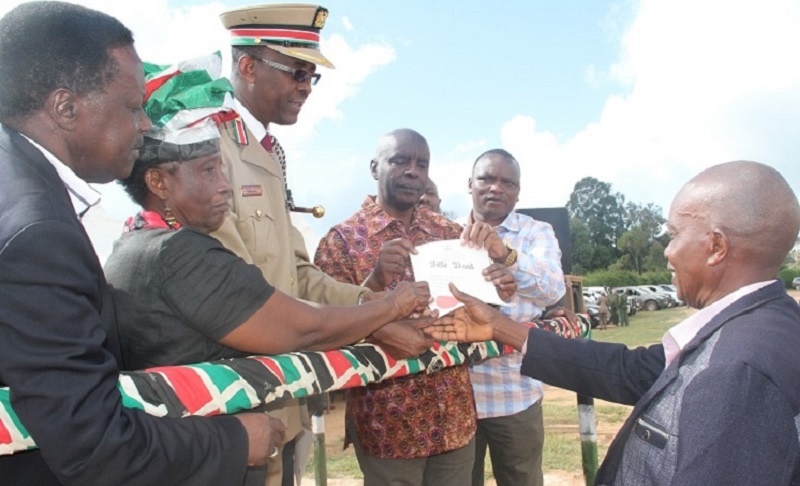 Makueni Governor Prof Kivutha Kibwana on Friday led local residents in celebrating this year's madaraka day by commissioning the issuance of 50,000 freehold title deeds at Nunguni.
The two-week distribution exercise, facilitated by the county government, will be conducted across the county.
The event was also attended by County Commissioner Maalim Mohammed, Deputy Governor Adelina Mwau, assembly speaker Douglas Mbilu, MPs Joshua Kimilu Makueni MP Daniel Maanzo as well as County Secretary Paul Wasanga.
Prof Kibwana said the lands department is undertaking several projects with a view to securing land tenure for a majority of the urban and rural populations:
Among these include: Survey for issuance of leasehold titles which has been extended to six markets spread out within all the Sub Counties.
The exercise involves the establishment of survey controls, picking and plotting of all property boundaries and preparation of survey plans from data collected for onwards processing with the Directorate of Land Surveys.
He said Support has also been extended to National Government Departments like the District Land Adjudication and Settlement Office through financing the remainder of activities towards resolution of arbitration board cases and hearings with a view to finalizing the adjudication areas for onwards gazettement and publication of registers.
The department has also facilitated the National Land Commission for the allocation of public land for public use as well as alienating land for public good.
Successful excisions have been done for Kevanda, Ngai Ndethya, Kiboko A, B and C and resolving long standing disputes for Mikululo, Mukaa Mbita among others.
Prof Kibwana said his administration is working on Makueni Big Four Agenda as captured in the County Integrated Development Plan (2018-2022), which include;
Reliable potable water for domestic use, Food security and agricultural commercialization. Youth, Women and persons with disability (PWD) economic empowerment and Institutional strengthening and capacity development.
The county commissioner assured Prof Kibwana of his support in combating illegal sand harvesting and insecurity.
"We will work together to deal with the illegal sand harvesting and insecurity," said Mr Mohammed.