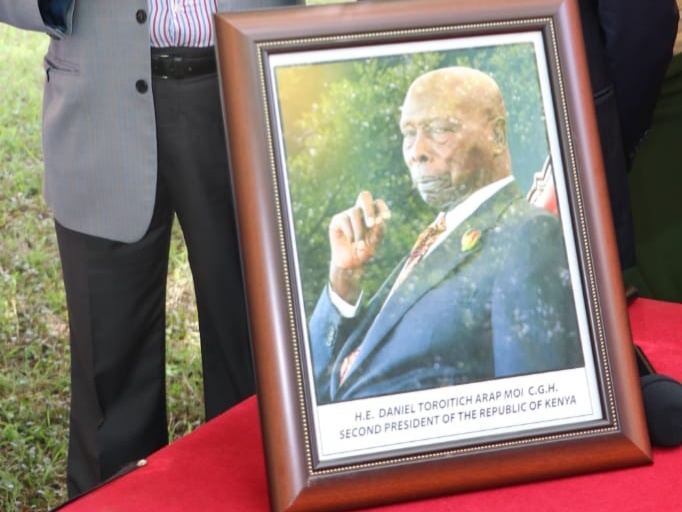 A section of Makueni leaders led by governor Kivutha Kibwana, County Commissioner Maalim Mohammed, assembly speaker Douglas Mbilu and former KANU minister Peter Maundu led citizens of Makueni in paying their tribute to fallen former president Daniel Moi Thursday.
Speaker after speaker eulogized Moi as a patriotic leader who unified the country through his clarion call of Peace, Love and Unity despite the ferocious clamour for constitutional reforms for most part of his presidency.
"I may not have had a good relationship with the former president due to my leadership of the pro-reform movement which roughed the former president the wrong way. I must however commend him for the inclusivity in leadership of his government." Said Kibwana.
"Moi is credited for laying a firm foundation for education in Kenya. The proliferation of Universities in the country was driven by Moi, who as a teacher saw the need for an educated generation," the governor said further.
Kibwana said Moi's executive power was felt across the country because he appointed ministers and their assistants from every corner of the country. He said this was the reason the former president was able to rule for 24 years.
The Makueni governor also applauded Moi for overseeing a smooth transition of power in 2002, when he would have used the state machinery to rig in his preferred successor.
According to Kibwana, the only thing he regrets is not getting an opportunity to sit with the former president and speaking one-on-one about the issues he and his pro-reform cohorts were fighting for.
"I wish I had an opportunity to sit with him and to tell him that the 'Fimbo ya Nyayo' was hard on us but we had to do what we did for the good of Kenya. I also would have told him I hold no grudges against him for the suffering we and our families went through," said the governor.
Mr. Maundu who served as an assistant minister in the office of the president and a KANU elected MP for Makueni termed the former president as a person who loved young people and propelled many into leadership.
"He was simply a mentor to the youth. Many of us were trusted with high leadership positions as assistant ministers in our early thirties. He even allowed us to represent the country internationally and he believed in the feedback we brought," he said.