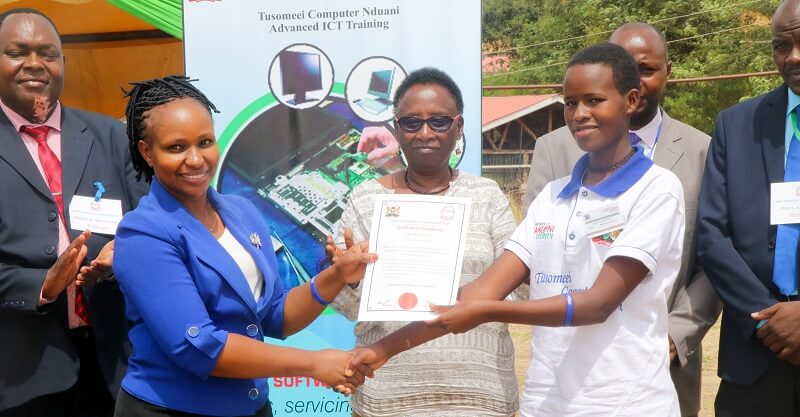 At least 120 youth from across the county have graduated from a 3-week free advanced ICT training program under "Tusomeei Computer Nduani" initiative fully funded by the County Government of Makueni.
The training was geared at equipping the young people with computational thinking and problem solving skills in order for them to succeed in the ever changing digital world.
They were competitively selected, 4 from each of the 30 wards and intensively trained on Web Design, Computer Hardware and Software, Graphics Design and computer Networks, with each trainee choosing an area of interest.
Konza Technopolis Development Authority CEO Eng John Tanui who addressed the graduands at Wote Technical Training Institute grounds on Friday said that the training was so timely with the Konza city taking shaping that it will provide a myriad of opportunities for the skilled young people.
"Konza Technopolis will be a sustainable, world-class technology hub and a major economic driver for Kenya, with a vibrant mix of businesses, workers, residents, and urban amenities. The skills you have acquired through this program are tools that prepare you to be among the key experts working at Konza as part of the journey to transform Kenya and Africa using ICT," Tanui said.
Makueni Deputy Governor Adelina Mwau who presided over the ceremony urged the graduands to take advantage of the skills they had acquired and exploit them to become resourceful and create job opportunities for other people in the society.
"What we require from you our graduands is focus and exploitation of the opportunities in ICT that will enable you earn income and create jobs. Not just using it in social media-WhatsApp, twitter and Facebook," stated Mwau.
Testimonies by some of the graduands tell of a people who have been empowered with technical skills and ready to face the world despite the increasing cases of unemployment among the young people.
Through the department of Education, Youth, Sports and ICT, the county government has trained other 4000 young people on basic ICT knowledge and has also established 15 Community Information Centres across the county where the citizenry are trained on basic ICT programs as well as access government services online.